Travelling Solo?
Around 80% of our guests come along on our trips on their own. If your friends can't get themselves together for this year's snow holiday and you're determined not to miss out, or you just fancy doing something a bit different (and don't fancy staying in a miserable hotel on your own), come and join our friendly group trips especially for independent travellers.
No problem
What's brilliant is that a huge number of our guests return year after year, often with the new mates they met on a previous HOFNAR trip.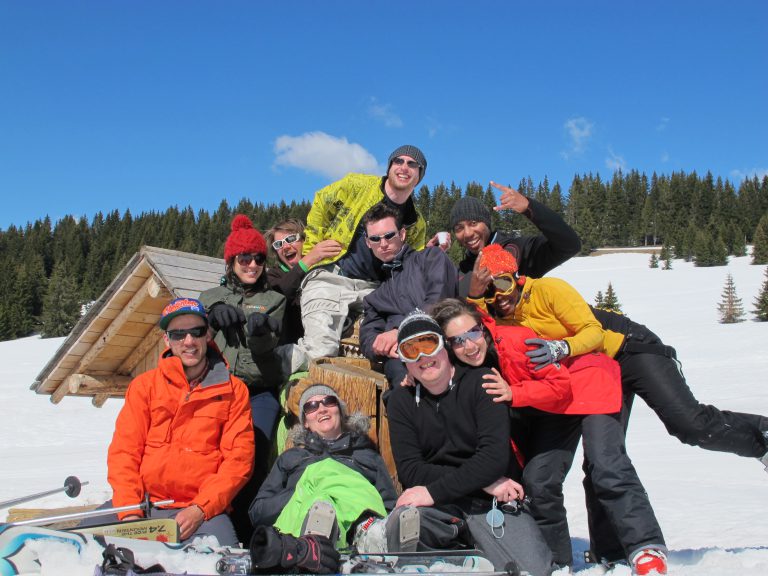 What's included?
Shared accommodation (Don't worry if you're travelling solo, we'll match you with someone the same sex).
Welcome drinks.
5 evening meals on evenings of the chalet's choice (normally we eat out on the first / last evenings, but it's all pretty flexi).
Unlimited beer, wine, soft drinks, tea, coffee & hot chocolate (alcohol with meals).
Breakfast each morning of porridge, cereal, baguettes, jams, toast, fruit, eggs … we have a cooked option available each day and on one morning we will have a full English fried breakfast.
You are welcome to make sandwiches and take packed lunches out of the chalet supplies.
"Raid the fridge" policy, with snacks, biscuits, cakes, waffles etc available in the afternoons.
HOFNAR hosts do everything from cooking breakfast and hanging out on the slopes with you to preparing dinner and leading the all important aprés!
Benefit of staying with a small group of like minded people, in a really laid back chalet where you can raid the fridge, wander around in your pyjamas, really make yourself at home and there are no kids!
What's NOT included?
Flights – you just need to get yourself to Geneva Airport (look on kayak.co.uk or skyscanner.net for some of the best prices). Any arrival or departure times are fine and it's OK if guests aren't on the same flights. No problem.
Transfers from / to the airport. We can easily arrange this for you for a cost of £110pp return.
Clothing – you need your own ski / snowboard gear – beg, borrow, steal from friends otherwise use ebay, TK Maxx. Check out our packing list or if you need more help just give us a shout!
Insurance – please have comprehensive travel insurance including winter sports cover in place asap!
Two nights we normally go out for dinner as a group and at your own expense. Typically we'll go for a fairly informal pizza on the first night and something more "Français" on the last.
"It's like going away with a group of friends you just haven't met yet …"