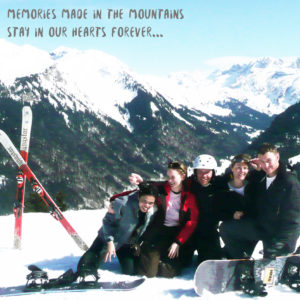 13 Jan 2024 -> £1210pp (4 person dorm), £1347 (2 person twin / double)
2 March 2024 -> £1260pp (4 person dorm), £1397 (2 person twin / double)
9 March 2024 -> £1210pp (4 person dorm), £1347 (2 person twin / double)
If you have never tried, or are a bit 'rusty' at skiing or snowboarding, these trips are for you!
"These trips are designed to provide a ready-made support group of new friends to learn with, so you don't feel you are holding anyone back or have to listen to seasoned skiers bore on about going off-piste…By the fourth day I understood why people become addicted to ski holidays."

The Guardian
We know that a skiing or snowboarding holiday can be a bit daunting for first-timers, so we put together a couple of special weeks for those who have never done it before, haven't done it for a while, or just haven't quite got the hang of it yet.
Morzine, in the French Alps, is a great place to learn, with beautiful scenery and a large range of wide open easy runs – and if it turns out you're a natural, there's a vast area of more challenging pistes.
Everyone will be on a similar level, which makes for a great group atmosphere and you can compare your turns and snowplough technique over a well-deserved glass of vin chaud at the end of the day at our cosy mountain chalet, or in one of the town's bars.
Most of our guests come on their own and it's a great way to meet new people and learn an essential (well, we think so) new skill.
Beg, steal or borrow some snow gear (here's a 'to bring list'), get yourself to Geneva airport and we'll sort out everything else – lift pass, all equipment hire, lessons, as well as everything that is usually included in a HOFNAR holiday.
A word of warning: you will become addicted to snow holidays!
What's included?
You'll be staying in our original chalet in Morzine, Chalet Armaillis. There is a choice of twin / double or same-sex quad rooms.
6 -day local area lift pass
6 days hire of skis, boards, boots, poles & helmet
6 mornings of skiing or boarding group lessons
Shared accommodation (Don't worry if you're travelling solo, we'll match you with someone the same sex).
Welcome drinks.
5 evening meals on evenings of the chalet's choice (normally we eat out on the first / last evenings, but it's all pretty flexi).
Unlimited beer, wine, soft drinks, tea, coffee & hot chocolate (alcohol with meals).
Breakfast each morning of porridge, cereal, baguettes, jams, toast, fruit, eggs … we have a cooked option available each day and on one morning we will have a full English fried breakfast.
You are welcome to make sandwiches and take packed lunches out of the chalet supplies.
"Raid the fridge" policy, with snacks, biscuits, cakes, waffles etc available in the afternoons.
HOFNAR hosts do everything from cooking breakfast and hanging out on the slopes with you to preparing dinner and leading the all important aprés!
Benefit of staying with a small group of like minded people, in a really laid back chalet where you can raid the fridge, wander around in your pyjamas, really make yourself at home and there are no kids!
What's NOT included?
Flights – you just need to get yourself to Geneva Airport (look on kayak.co.uk or skyscanner.net for some of the best prices). Any arrival or departure times are fine and it's OK if guests aren't on the same flights. No problem.
Transfers from / to the airport. We work closely with Ski-Lifts, let us know if you need help
Clothing – you need your own ski / snowboard gear – beg, borrow, steal from friends otherwise use ebay, TK Maxx. Check out our packing list or if you need more help just give us a shout!
Insurance – please have comprehensive travel insurance including winter sports cover in place asap!
Two nights we normally go out for dinner as a group and at your own expense. Typically we'll go for a fairly informal pizza on the first night and something more "Français" on the last.