Every week in July 2023, £650 (£625 MatesRates)
Morzine and Les Gets are the towns to be seen on two wheels. And this year is set to be epic!
Our mountain biking holidays are really laid back, a great way to meet new friends and it doesn't matter if you are a bit wobbly on your bike or a downhill pro – come play!
These trips run alongside our multi activity trips. As such you can dip in and out of that programe too, if you wish.
There is some amazing terrain, trails and parks all easily accessed by the ski lifts that run during the summer and most agree this is the best set up in Europe.
You can bring your own bike or hire them in town. A hard tail bike costs aprox €40 for a day and a full suspension bike is about €80 for the day.
The chalet has a secure garage to store your bike and we have a power hose to keep things nice and shiny. We can provide guides and / or instruction.
There are loads of ski lifts open that will take your bike up. A 6 day all area pass is 183euros. See below for the maps…
There are trails of all abilities, north shore courses and jump parks, not forgetting the Portes du Soleil mountain bike trail. 
The accommodation
This summer (2023) we have teamed up with Jack & Jill Holidays and they are letting us use their fabulous Chalet Gouter

Down by the 'dead centre' of town it's in easy reach of everything – it's all pretty new, has space for 10 guests in real nice twin / double rooms or there is a 4 person room which we'll keep 'same sex.'
There's a hot tub in the garden and a large terrace for lazy 'al fresco' dining and epic bbqs.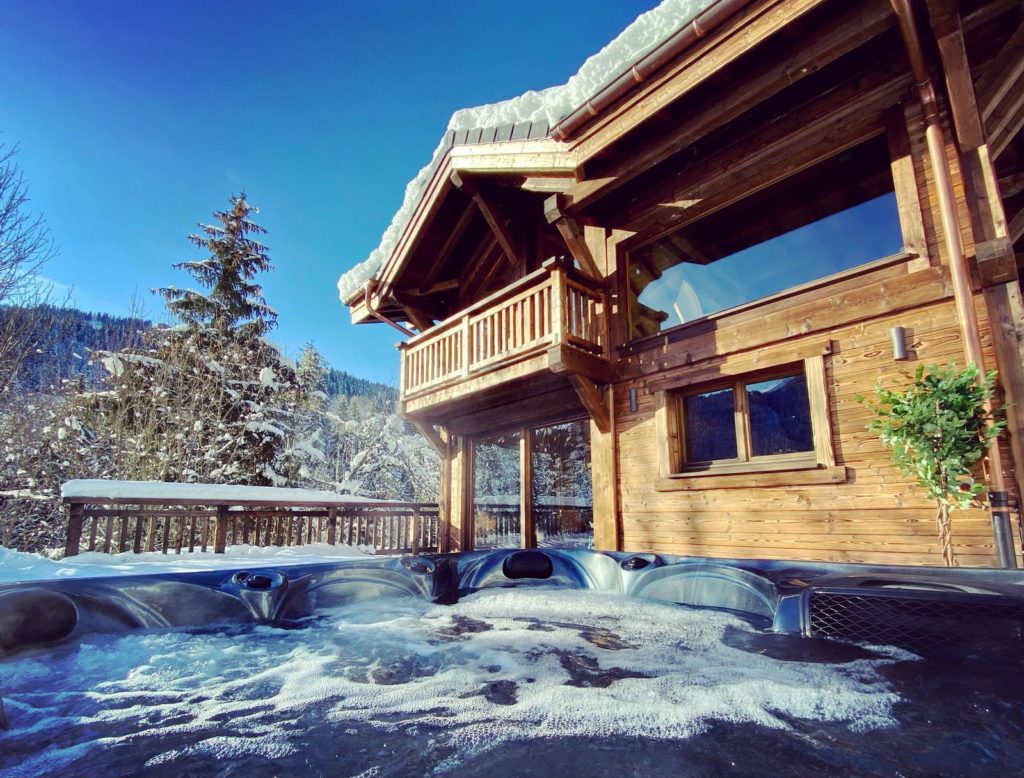 What's included?
You'll be staying in a beautiful chalet, close to the centre. There is a choice of twin / double rooms or a 4 person same sex room.
Bike stand, pumps, basic workshop tools.
Power hose.
Secure bike storage.
Shared accommodation (Don't worry if you're travelling solo, we'll match you with someone the same sex).
Welcome drinks.
5 evening meals on evenings of the chalet's choice (normally we eat out on the first / last evenings, but it's all pretty flexi).
Unlimited beer, wine, soft drinks, tea, coffee & hot chocolate (alcohol with meals).
Breakfast each morning of porridge, cereal, baguettes, jams, toast, fruit, eggs … we have a cooked option available each day and on one morning we will have a full English fried breakfast.
You are welcome to make sandwiches and take packed lunches out of the chalet supplies.
"Raid the fridge" policy, with snacks, biscuits, cakes, waffles etc available in the afternoons.
HOFNAR hosts do everything from cooking breakfast and hanging out on the slopes with you to preparing dinner and leading the all important aprés!
Benefit of staying with a small group of like minded people, in a really laid back chalet where you can raid the fridge, wander around in your pyjamas, really make yourself at home and there are no kids!
What's NOT included?
Flights – you just need to get yourself to Geneva Airport (look on kayak.co.uk or skyscanner.net for some of the best prices). Any arrival or departure times are fine and it's OK if guests aren't on the same flights. No problem.
Transfers – we can help you arrange these
Bike. A lot of people bring their own, however you can rent bikes locally. If you are downhilling then you really need a full suspension bike, aprox €79 for the day, €450 for the week (See Alan Bike Shop). This price includes saftey gear too.
Lift Pass – a 6 day all area one is 183euros
Lessons and guides can be arranged. We know some really good people in town.
Clothing – you need your own gear – beg, borrow, steal from friends otherwise use ebay, TK Maxx. Check out our packing list or if you need more help just give us a shout!
Insurance – please have comprehensive travel insurance including mountain biking cover in place asap!
Two nights we normally go out for dinner as a group and at your own expense. Typically we'll go for a fairly informal pizza on the first night and something more "Français" on the last.
Resort Info
As much as we love winter, we reckon that Morzine during the summer is one of the Alps' best kept secrets. The town still isn't quite as busy as the winter, but this is part of its charm – the vibe is laid-back, active and outdoorsy.
Just 1hr and 20 minutes from Geneva, the resort is one of the easiest and quickest to get to from the UK. This historic mining and farming town has avoided the ugly tower blocks that blight many of the French resorts and remains a 'real' French town with a market on a Wednesday morning and a year-round population.
There's way more to do here than when the snow is on the ground. Go hiking, biking, rafting, wild swimming, golf, horse riding, SUP-ing, fishing, climbing, paragliding, canyoning, picnic-ing, tree swinging, go karting, bbq-ing… there really is something for everyone. And with the rise of downhill, enduro and road biking the town gets more and more exciting every year.
We also see some really great events; Spartan, Harley Days and the Tour de France are all often in town. Summer in the Alps – amazing!